About Woodline Lumber
Located on Route 2 in Alburgh, Vermont, Peter Irish, owner and President of Woodline Lumber trades hardwood lumber both domestically and internationally.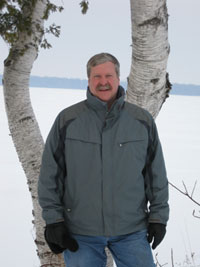 Born and raised in Burlington, Vermont, Peter graduated from the University of Vermont in 1977 with a B.S. degree in Forest Management. Itching to get his hands dirty, Peter went right to work learning the hardwood lumber business from the ground up with one of Northern New England's premier sawmills working long, hard hours in a very demanding trade. In the mill, Peter worked as a Sawyer, log scaler and lumber handler preparing shipping dry lumber for export. While at the mill he had his first introduction to NHLA grading rules.
In 1980, moving his family to North Carolina, Peter began trading hardwood lumber to the furniture industry for a large Lumber Trading Company. During this time he worked with sawmills and furniture manufacturers in North Carolina, Virginia, West Virginia, Kentucky and Ohio.
Ten years later in 1990, feeling the tug to return closer to his New England roots, Peter headed back north moving his family to Walpole, New Hampshire and started his own venture, Woodline Lumber Company.
Coming full circle and returning to his Native Vermont in 2004, Peter resides in Alburgh, Vermont where he continues to trade hardwood lumber to both the Domestic and Export Markets.