Welcome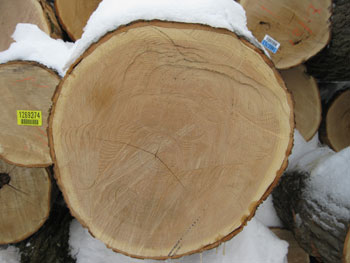 Woodline Lumber Company's sales office is located in Alburgh, Vermont on beautiful Lake Champlain. It was established in 1990 as a lumber trading company supplying Domestic and Export markets with high quality kiln dried, shipping dry and green hardwoods. In addition to trading hardwood lumber, Peter Irish, owner of Woodline Lumber Company, has built strong relationships over the years with the mills and his customers that include trust, honesty and integrity.
The business in 2011 has evolved from what it was in 1990. Well established in both the Domestic and Canadian Export markets for many years, Woodline Lumber is now actively exporting U.S. hardwood lumber to Asia, Europe and the Middle East where high quality North American Hardwood lumber is in great demand.
We specialize in shipping full truck or container load quantities of NHLA graded* or special grade North American hardwoods including but not limited to Northern Red Oak and White Oak, Hard and Soft Maple, Ash, Cherry, Basswood, Beech, Yellow Poplar, Yellow Birch, Walnut, Sycamore, Elm and Aromatic Cedar..
Our suppliers are among the best high quality, reputable sawmills located in the key hardwood timber areas of the United States. Mills are located in New England, Ohio, West Virginia, Virginia, Pennsylvania and New York. This means when you purchase hardwood from Woodline Lumber Company, you can be assured that you will receive the finest quality materials available at a fair and competitive price.
We work closely with a modern high production sawmill and kiln facility located in Brattleboro, Vermont. The sawmill is in the heart of prime Northern Red Oak, Hard and Soft Maple and Yellow Birch country and produces 10 million board feet annually.
Our customers are manufacturers of cabinetry, furniture, flooring, and dimension, as well as lumber distribution yards. They depend on us for a smooth flow of lumber into their facilities on a precise schedule.
(*NHLA – National Hardwood Lumber Association --U.S. hardwood lumber is graded to the rules of the National Hardwood Lumber Association (NHLA). The NHLA grading rules maximize both the yield and the value of sawn wood, which minimizes waste and reduces pressure on the environment.)
Proud Member of:

National Hardwood Lumber Association

New England Lumberman's Association
Canadian Hardwood Bureau
Franklin County Chamber of Commerce